Advertisment
» Yaar Chale Bahar Gur Sidhu Mp3 song download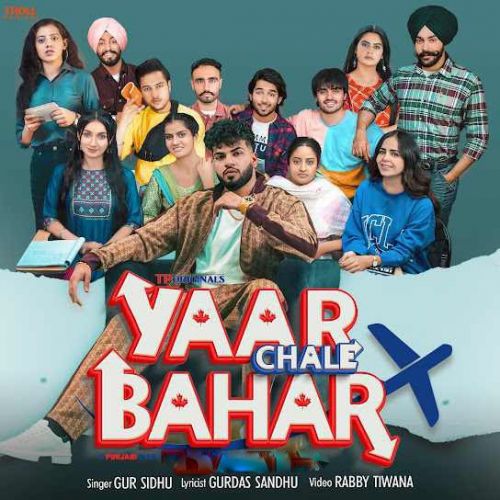 Track : Yaar Chale Bahar
Artist : Gur Sidhu
Lyrics : Gurdas Sandhu
Music : Gur Sidhu
Label : Troll Punjabi
Playtime : 3:08 min
Release on : Jun 22, 2022
Rating : 5/5
Gur Sidhu Top Songs
if any artist/company wants to remove song from DjPunjab. Please email us on admin@djpunjab.is , We will remove within 12 to 48 hours.
---
Description : Yaar Chale Bahar mp3 song download by Gur Sidhu in album Yaar Chale Bahar. The song Yaar Chale Bahar is Lyrics by Gurdas Sandhu Music by Gur Sidhu Label Troll Punjabi. Yaar Chale Bahar Gur Sidhu mp3 song belongs to Single Track and Yaar Chale Bahar release on Jun 22, 2022. Yaar Chale Bahar song playtime is 3:08 minute
Gur sidhu music! Hunn neend mainu na aave Ik gall joh roz satave Bebe bapu ne chaunde Munda set sadda ho jaave Velan da launa teg Karu help baapu swag Chakwi ji selfie pauni Faad taira wala beg Ikko thaan addi garari Chadhke jahaz di baari Leni cheti pr Sannu dollar'an nal pyar Yaar chale bahar Kadd jana bann star Yaar challe bahar Jande hi leni mustang car Weekend te jana bahar Tanhiyon yaar challe bahar Assi desi pinda wale Darde english ton bahle Syllabus ne pange paate Ainne sun de dial ghumate Writing meri week yaaron Sunn chakkar aun chalaate Kaade suni speak audi aake Jatt bolan bora khake Listening de chakde phatte Tu kaad de launde ratte Ik din wich chaar Aithe koyi naa lainda saar Yaar chale bahar Nale mileya ni rojgar Yaar chale bahar Ristedaar khande khaar Sunn na nai baar baar Oh tanhi yaar chale bahar I don't like joh kehndi Vekhi nehde oh behndi Mittraan da time bhi auna Phir osse nu tarsona Jaadon hoyi porche thalle Ohne dekh dekh pachhtona Baapu bidte wich dollar Jatt set karunga caller Koyi labhke pr gori Jadon gall vyah di tori Ohvi hojugi taiyaar Ho breakup kargi naar Yaar chale bahar Ho jandi zindagi gayi khalar Yaar chale bahar Par manda ni jatt haar Jaake labhna sacha pyaar Tanhiyo yaar challe bahar Kuchh rishtedaar se bandi Karde joh meri pandi Bebe de haath je adde Baapu de supne wadde Ik din dil nu millu tassalli Jaad poore kar kar chadde Dekhuga jaado saleeka Machuga hor shareeka Halle taan karja launa Ikk tagda mahal banona Idhar aunde ae saar Fasla nu paigi maar Yaar challe bahar Fail hoge sare vyapar Yaar challe bahar Baapu te sir te bhar Saari tesnion deni utaar Tanhiyo yaar challe bahar Yaar challe bahar Yaar challe babar
Written By : Gurdas Sandhu
---
FAQs for Yaar Chale Bahar
Who is singer of Yaar Chale Bahar song?
Singer of Yaar Chale Bahar song is Gur Sidhu.
Who is writer of Yaar Chale Bahar song?
Gurdas Sandhu wrote this Song.
Who is the music director of Yaar Chale Bahar song ?
Yaar Chale Bahar is Tuned by Gur Sidhu.
Which label release Yaar Chale Bahar song ?
Yaar Chale Bahar is released under the label of Troll Punjabi.
Whats the playtime (duration) of Yaar Chale Bahar song?
Playtime of song Yaar Chale Bahar is 3:08 minute.
When Yaar Chale Bahar song released?
Yaar Chale Bahar mp3 punjabi song has been released on Jun 22, 2022.
How can I download Yaar Chale Bahar song ?
You can download Yaar Chale Bahar song via click above download links.
---
Short Link: https://djpunjab.is/song/300012
Tags: Yaar Chale Bahar mp3 song , Yaar Chale Bahar mp3 song download , Yaar Chale Bahar song download , Yaar Chale Bahar Gur Sidhu mp3 song , Yaar Chale Bahar Gur Sidhu mp3 song download , Yaar Chale Bahar Gur Sidhu song download
» Home
For any info - admin@djpunjab.is