Advertisment
» Tornado
» Tornado Gagan Kokri Mp3 song download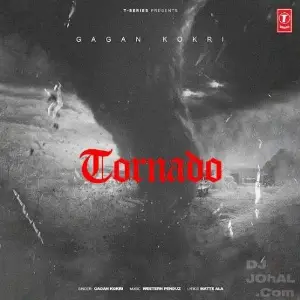 Track : Tornado
Artist : Gagan Kokri
Lyrics : Matte Ala
Music : Western Penduz
Label : T-Series
Playtime : 2:43 min
Release on : Oct 28, 2022
Gagan Kokri Top Songs
if any artist/company wants to remove song from DjPunjab. Please email us on admin@djpunjab.is , We will remove within 12 to 48 hours.
---
Description : Tornado mp3 song download by Gagan Kokri in album Tornado. The song Tornado is Lyrics by Matte Ala Music by Western Penduz Label T-Series. Tornado Gagan Kokri mp3 song belongs to Single Track and Tornado release on Oct 28, 2022. Tornado song playtime is 2:43 minute
Dehki vakhi vich painde hoore dhouno fad la lu moohre jehde jehde bande aa boss balliye Oo jarea ni jana dekhi bharea ni jana dekhi aisa kru aintyan da loss balliye ....... Sidha hikk vich vajju saare mai bhulekhe kaddu hogye jdo jatt na cross balliye Ho aa ke khende saale tere yaar naal ni pange lainde saale tere yaar naal ni ........ Ho paau lamme ni than than paa su daddu goriye dekhi chall tu m ragad ke chaddun goriye Saale dakku jo ban ke tufaan aunde aa m jodu gaddi na jo ban ban saan aunde aa ....... Jattiye tu ho ke keran kole dekh lyi jattiye ni karda m bole dekh layi jattiye ni farkde daule dekh lyi jattiye-#65533;. Malwe da jammea mai kokkri da jatt ni Ho ke chelle astaad kathe lainge ki patt ni Winnipeg vich peg jihna naal sanjhe aa Gundea lyi gunde jatt aldaa lyi ranjhe aa ....... Nivi paa ke rakh de akh v ni chakkde a jehde jehde mittran ne reejh naal manjhe aa Bande ghaint ne vaily saare moge val de Naam chalda jida ne daller chalde ....... Melbarn vich pakka e tikaana jatt da laduu badea de zehar vangu gana jatt da Jattiye krda mai thoule dekh lyi jattiye-#65533;. Dehki lamkde bullan vichon digdi hoyi chagg nu Vahno vahni paa du ni m giddra de vagg nu Bhajjan ni dinda m pataal cho v labh lu Kadd de jo akhan ni m jutti thalle dabb lu Baith ke vicharan ge mathe hath maarnge sochan ge naale kite ched lya yabb nu Nakli shera nu milu jaal ban ke dhakda nu takru m kaal banke ...... Ho bahle tattea nu takru syaal banke Disu matte ala chandra khyaal banke Jattiye paunda jatt choule dekh lyi jattiye
Written By : Matte Ala
---
FAQs for Tornado
Who is singer of Tornado song?
Singer of Tornado song is Gagan Kokri.
Who is writer of Tornado song?
Matte Ala wrote this Song.
Who is the music director of Tornado song ?
Tornado is Tuned by Western Penduz.
Which label release Tornado song ?
Tornado is released under the label of T-Series.
Whats the playtime (duration) of Tornado song?
Playtime of song Tornado is 2:43 minute.
When Tornado song released?
Tornado mp3 punjabi song has been released on Oct 28, 2022.
How can I download Tornado song ?
You can download Tornado song via click above download links.
---
Short Link: https://djpunjab.is/song/300654
Tags: Tornado mp3 song , Tornado mp3 song download , Tornado song download , Tornado Gagan Kokri mp3 song , Tornado Gagan Kokri mp3 song download , Tornado Gagan Kokri song download
» Home
For any info - admin@djpunjab.is