Advertisment
» The Real Talk Prabh Chahal Mp3 song download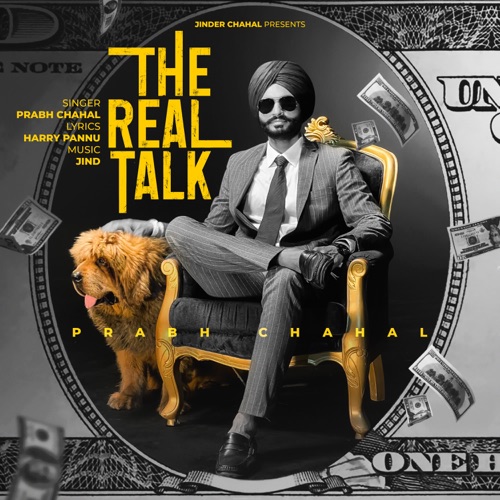 Track : The Real Talk
Artist : Prabh Chahal
Lyrics : Harry Pannu
Label : Prabh Chahal Music
Playtime : 2:23 min
Release on : Jul 17, 2022
Prabh Chahal Top Songs
if any artist/company wants to remove song from DjPunjab. Please email us on admin@djpunjab.is , We will remove within 12 to 48 hours.
---
Description : The Real Talk mp3 song download by Prabh Chahal in album The Real Talk. The song The Real Talk is Lyrics by Harry Pannu Label Prabh Chahal Music. The Real Talk Prabh Chahal mp3 song belongs to Single Track and The Real Talk release on Jul 17, 2022. The Real Talk song playtime is 2:23 minute
Oh
Kitho Aehe Mandi Manoni Paindi Duniya Ae
Apne Hi Ranga Cha Liyoni Paindi Duniya Ae
Eathe Na Kise Nu Koe Janda Aa Tich
Ungla De Utte Ae Nachoni Paindi Duniya Ae

Oh Sade Tor Te Tareeke Wakh Duniya Te Hor Lakh
Vairia De Ghara Vich 18 Nhio Kitiya
Jithe Ja Ke Muk Jan Socha Diya Tara
Billo Uthe Tak Mitra Mara Bahut Kitia

Oh Vekh Hath Bath Mitra Di Hikk Mache Titra Di
Mul De Khamba Naal Jo Udar Bande
Bin Bin Rakhe Hoye Aa Pula Vich Dhake
Sale Kal De Jawak Ustad Bande
Ho Masdar Gaddiya Nai Torah Vekh Kadiya Nai
Jatta De Munde Aa Vekh Dhooda Patde
Shadi Di Ni Kade Asi Jithe Jayie Khad
Uthe Hilde Ni Kade Pair Jatt De

Hunt Calivar Rafla Nai Yaar Naal Mehfila Nai
Julfa Di Shawe Kade Gappa Nhio Mariya
Copia De Warke Ni Yaar Kade Barte Ni
Yaaria De Piche Jandia Nai Jaana Waria
Kakde Da Harry Naal Mathi Mathi Rakhi Chaal
Dukia Nu Chakeya Te Rode Bade Yakke Aa

Jado Kade Aayi Da Tufan Ban Aayi Da
Pakkeya Khunda De Asi Tode Bade Nakke Aa
Ho Dab Naal Hitler Aa Ke Ura Check Kar
Chodia Hikka Cha Nhi Pital Bharda
Oh Ki Jande Daleri Jihne Jutti Nhio Feri
Aaje Ishq Kahaniya Nu Jawe Padda

Aa Pagg Jehdi Bani Hoyi Aa
Khoon Naal Rangi Hoyi Aa
Eadi Nhio Sokhi Sardari Mildi
Te Agg Badle Di Howe Kad Ghadi Vi Na Howe
Kar Deyie Fir Reej Asi Poori Dil Di

Ae Zindagi Hi Chess Aa Na Eathe Koe Mit Aa
Soch Soch Kadma Nu Dharna Painda Ae
Har Gal Utte Chup Jawe Siro Pani Uth
Fir Vairia Di Hikka Utte Chadna Painda Ae
Oh Pade Asi Daa Sikhe Nejeyea De War Tikhe
Seeneya Te Has Has Jar Aaye Aa
Gusse Vich Hinke Ni Pair Kade Thirke Ni

Zindagi De Naal Aapa Lad Aaye Aa
Zindagi De Naal Aapa Lad Aaye Aa

Written By : Harry Pannu
---
FAQs for The Real Talk
Who is singer of The Real Talk song?
Singer of The Real Talk song is Prabh Chahal.
Who is writer of The Real Talk song?
Harry Pannu wrote this Song.
Which label release The Real Talk song ?
The Real Talk is released under the label of Prabh Chahal Music.
Whats the playtime (duration) of The Real Talk song?
Playtime of song The Real Talk is 2:23 minute.
When The Real Talk song released?
The Real Talk mp3 punjabi song has been released on Jul 17, 2022.
How can I download The Real Talk song ?
You can download The Real Talk song via click above download links.
---
Short Link: https://djpunjab.is/song/300141
Tags: The Real Talk mp3 song , The Real Talk mp3 song download , The Real Talk song download , The Real Talk Prabh Chahal mp3 song , The Real Talk Prabh Chahal mp3 song download , The Real Talk Prabh Chahal song download
» Home
For any info - admin@djpunjab.is