Advertisment
» Questions Real Boss Mp3 song download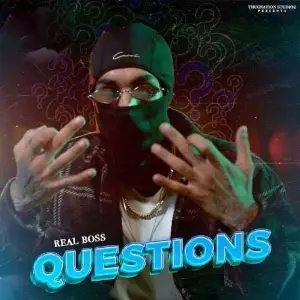 Track : Questions
Artist : Real Boss
Lyrics : Real Boss
Music : Real Boss
Label : Thugnation Studioz
Playtime : 2:58 min
Release on : Oct 30, 2022
Real Boss Top Songs
if any artist/company wants to remove song from DjPunjab. Please email us on admin@djpunjab.is , We will remove within 12 to 48 hours.
---
Description : Questions mp3 song download by Real Boss in album Questions. The song Questions is Lyrics by Real Boss Music by Real Boss Label Thugnation Studioz. Questions Real Boss mp3 song belongs to Single Track and Questions release on Oct 30, 2022. Questions song playtime is 2:58 minute
Tenu Puchne Sawaal Kuj Dil Ne Rakaane Thoda Kol Mere Hoke Sun Meriye Ni Jaane Gallan Shaant Shaant Kaddiya Main Tere Layi Billo Chup Chaap Das Deyi Awe Laayi Na Bahaane Har Gall Da Jawaab Tu Fadayegi Ke Nahi Kahaani Pyaar Wali Mere Naal Banayegi Ke Nahi Je Rus Geya Jatt Tu Manayegi Ke Nahi Yaari Aakhiri Saah Tak Tu Nibahegi Ke Nahi Honeymoon Te Laijao Tenu Burj Khalifa Palle Pai Ja Mere Dede Duniya Nu Asteefa Jehre Wanted Ne Rehnde Jatt Ohna Da Bajeefa Mere Pind Mohre Fikka Tera Mapal Jo Leefa Ni Main Hora Wang Chol Mol Karne Ni Tere Naal Gf Ni Tu Das Phere Layegi Mere Naal Loki Door Par Tu Nede Aayegi Ke Nahi Nashe Wang Lor Jatt Nu Chadayegi Ke Nahi Mere Fikra Nu Naal Behke Khaayegi Ke Nahi Ket Makeup Wali Ch Raund Paayegi Ke Nahi Mere Naal Hoke Kaand Tu Karayegi Ke Nahi Yaari Akhiri Saah Tak Tu Nibhayegi Ke Nahi Yaari Laayi Tere Dhaayi Mere Mohre Tu Dukha Di Te Main Chak Lao Grantee Tere Sareya Sukha-#65533;Di ..... ............. ..........
Written By : Real Boss
---
FAQs for Questions
Who is singer of Questions song?
Singer of Questions song is Real Boss.
Who is writer of Questions song?
Real Boss wrote this Song.
Who is the music director of Questions song ?
Questions is Tuned by Real Boss.
Which label release Questions song ?
Questions is released under the label of Thugnation Studioz.
Whats the playtime (duration) of Questions song?
Playtime of song Questions is 2:58 minute.
When Questions song released?
Questions mp3 punjabi song has been released on Oct 30, 2022.
How can I download Questions song ?
You can download Questions song via click above download links.
---
Short Link: https://djpunjab.is/song/300661
Tags: Questions mp3 song , Questions mp3 song download , Questions song download , Questions Real Boss mp3 song , Questions Real Boss mp3 song download , Questions Real Boss song download
» Home
For any info - admin@djpunjab.is