Advertisment
» Afire
» Afire Raja Sandhu Mp3 song download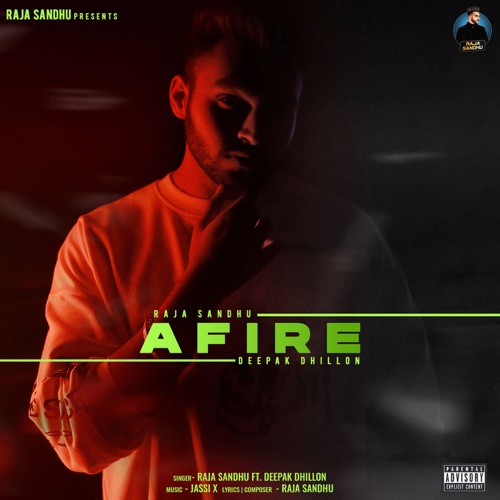 Track : Afire
Artist : Raja Sandhu
Lyrics : Raja Sandhu
Label : Raja Sandhu Music
Playtime : 2:55 min
Release on : Jul 11, 2022
Raja Sandhu Top Songs
if any artist/company wants to remove song from DjPunjab. Please email us on admin@djpunjab.is , We will remove within 12 to 48 hours.
---
Description : Afire mp3 song download by Raja Sandhu in album Afire. The song Afire is Lyrics by Raja Sandhu Label Raja Sandhu Music. Afire Raja Sandhu mp3 song belongs to Single Track and Afire release on Jul 11, 2022. Afire song playtime is 2:55 minute
Oh Gharo Turda Aa Beh Ke Kali Range Vich Ni
Phone Gabru Da Chalda Ae Angage Vich Ni
Asi Mariya Nai Mariya Jo Malha Goriye
Hon Area Cha Sadia Hi Gallan Goriye
Asi Rabb Toh Likha Ke Aaye Luck Ni Kude
Sadi Galbaat Sareya Toh Vakh Ni Kude
Oh Love Life Sanu Kude Lot Aauni Na
Mud Toh Hi Sadi Life Thag Ni Kude
Kise Cheej Da Vi Kude Maan Na Kara
Duki Tikki Da Na Khoaf Rabb Toh Dra
Jo Sade Ware Negative Thought Rakhde
Ohna Saleya Di Kude Care Na Kara

Oh Klla Jatt One Man Army Kude
Kise Lyi Vi Dil Vich Khar Ni Kude
Oh Daban Dabon Wala Kam Duniya Da
Aape Kade Mande Aa Har Ni Kude

Oh Menu Pta Kude Kiwe Raise Hoyea Main
Dhokhe Kha Ke Duniya Toh Tej Hoyea Main
Lare Lapeya Cha 21 Saal Katte
Nature Toh Tahi Eana Change Hoyea Main
Oh Kayi Gallan Karde Si Sadi Back Te
Mooh Te Aa Ke Ohna Di Juban Khule Na
Made Time Jehde Rahe Ltta Khichde
Menu Aaj Tak Ohna De Vi Naam Bhule Na
Oh Chaldi Aa Hawa Vekh Sade Wal Di
Aaj De Aa Raje Fikar Na Kal Di
Oh Jinna Time Rabb Waloh Sada Likheya
Dekh Sadi Life Kiwe Roleya Cha Langdi

Ve Jandi Aa Jatta Jatti Mar Teri Ve
Teri Kardi Support Full Naar Teri Ve
Tere Wang Kaleya Kmma Cha Rehndi Ae
Kali Car Teri Rehndi Aa Frar Jehdi Ve
Kise Kam Cha Na Jatta Dhil Chadda
Pakkia Kandha Cha Fere Kill Gadda
Tere Nalo Jayada Tera Gussa Mada Ve
Eani Gal Tera Ae Nature Dasda

Tere Piche Dil Kinne Tode Mundeyea
Aaye Bade Saak Kinne Mode Mundeyea
Tere Hakk Vich Khadi Piche Nhio Hatdi
Jo Tere Role Mere Vi Nai Ohi Role Mundeyea

Oh Akha Utte Shade Kale Kale Baliye
Gabru Tuh Dekh Pinda Wale Baliye
Oh Boot Kat Pa Ke Tere Shehar Ghumde
Rees Karde Nai Aaj De Niyane Baliye
Oh Changeya Naal Changa Jatt Madeya Naal Mada Ni
Sire Chade Kam Kehra Hath Jihnu Pa La Ni
Sanu Kade Kise Toh Problem Hoyi Na
Sanu Vekh Vekh Kayi Karde Aa Sada Ni

Dab Naal Laga Jehda Beham Kadda
Nahi Eahe Kithe Jeon Jogge Sah Chadda
Shera Wali Tor Gadhi Wale Jatt Di
Oh Vekh Lai Jamana Kiwe Raah Chadda

Oh Sandhua Da Munda Kithe Dabda Kude
Oh Jor Lagga Dabne Te Jagg Da Kude
Oh Ohnu Ki Ae Lod Fir Kise Hor Di
Jihnu Howe Ni Sahara Us Rabb Da Kude
Rabb Da Kude Rabb Da Kude

Written By : Raja Sandhu
---
FAQs for Afire
Who is singer of Afire song?
Singer of Afire song is Raja Sandhu.
Who is writer of Afire song?
Raja Sandhu wrote this Song.
Which label release Afire song ?
Afire is released under the label of Raja Sandhu Music.
Whats the playtime (duration) of Afire song?
Playtime of song Afire is 2:55 minute.
When Afire song released?
Afire mp3 punjabi song has been released on Jul 11, 2022.
How can I download Afire song ?
You can download Afire song via click above download links.
---
Short Link: https://djpunjab.is/song/300102
Tags: Afire mp3 song , Afire mp3 song download , Afire song download , Afire Raja Sandhu mp3 song , Afire Raja Sandhu mp3 song download , Afire Raja Sandhu song download
» Home
For any info - admin@djpunjab.is